Bonzobox is a very good bookmarking web2.0 tool . It is " an interactive web tool that allows people to build their own customized " bonzobox" home page with links to their favorite website". No need to type in numerous web addresses any more , just drag and drop and click on any bonzobox to refer you back instantly to the targeted site . I have already covered a couple of other bookmarking web2.0 tools that you can use in your classroom as well , check out the following if you want to learn more :

Some features of Bonzobox
The following are some features that
Bonzobox
offer to its users :
It is free, simple , and easy to use
It has a user-friendly interface
Quick access to favorite sites using Bonzobox
It offers a specialized email application for users to have a complete access to all of their personal email accounts .
It also allows users to generate live thumbnail of any site from anywhere on the web .
It can be used as one's homepage so that whenever you open the internet all your favorite websites and email accounts will be saved for you and ready to use.
How can I get started using Bonzobox ?
First go to
Bonzobox main page
and click on sign up to open a new account or use your facebook account to access it .
Once you are logged in you can :
1- add a site
click on " add a site " on your right hand and fill in the info needed
2- Import your bookmarks
To do so , click on " my setting" at the top bar and select import bookmarks and follow the instructions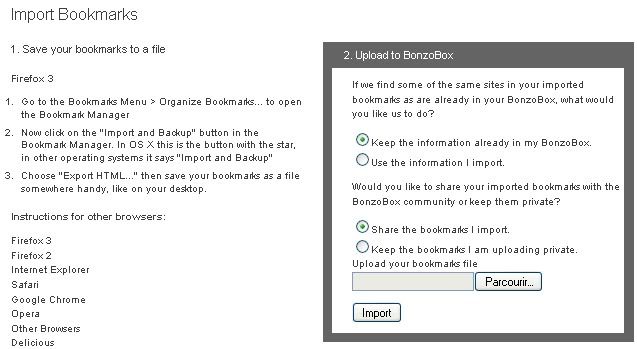 To learn more about
Bonzobox
visit their
BonzoBlog
and read their updated posts. LKINK
Application of Bonzobox in education
I would really recommend this
web2.0 tool
to all
educators and teachers
. Introduce
Bonzobox
to your students and make them familiar with it through a detailed tutorial in which you explain to them all the procedure of bookmarking and accessing their favorite sites. I am quite sure they will love it . It can help them a lot with their learning . It will offer them a free student- friendly interface for the organization of their blogs and webpages and share these bookmarks with other students .You can also provide students with educative links and urls and let them organize them using
Bonzobox
in such a way that everything will be neatly styled in a single interface for them to easily access whenever they want .
That's it about
Bonzobox in Education
You might also like :