This is in fact an advice that should have been posted long time ago but I am the kind of person who learns by doing and did not realize its importance until just recently . Be it a teacher , student or whomever you are and since you are here in this educational technology blog whose niche focuses primarily on the application and integration of web2.0 tools in education then I think this advice concerns you as well .
A quick overview on the posts I have been publishing here would let you notice that some of the web2.0 tools entail a valid email address for registration , and this is where the shoe pinches. Submitting your professional or personal email addresses to every website that asks for one can sometimes offset unexpected negative results. Spam is number one
Two years ago, When I first started exploring the potential of web2.0 tools in education , I used to submit my personal email address to any site that I would be using until I ended up having accounts with quite many websites and forums . Guess what happened ? My inbox used to be overloaded with emails most of which were just spam and junk mail ; sometimes I would get an important email and I would never have a clue till it's too late simply because the huge amounts of emails which I would receive would take me hours to browse through them . This got on my nerves and pushed me to seriously think about another alternative. This " electronic chaos " I have in my inbox .No need to wonder where this spam comes from . unfortunately , Some of the website to which you submit your email address when creating an account with them just dump you and sell out your email to advertising companies which in turn start promoting their products through emails sent to you and many others like you .
Don't freak out !! there is a solution to this now . There is what is called temporary inboxes which are free services that allow you to open an account with them instantly and without having to submit any personal information . These services, thus , generate a valid temporary email address that is particularly useful when the email address is only part of the registration process and the site does not rely on the email address for communication .
Here are two of the main free services that allow users to have free instant valid email addresses.

First go to
Tempinbox main page
, scroll down to the blue bar and enter a name and tick " I have read the terms of service and click on check mail .
Now you have a valid email address .

To view messages in the inbox of this email go to this blue bar again and type in the same name you used and click check mail then scroll down to " view all messages"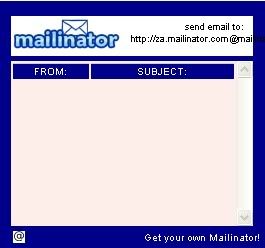 Go to
Mailinator main page
and type in a name for your email address in the box as shown below and click on "go"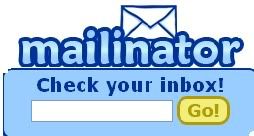 An email address will be generated for you . You can also try general alternate email . If you want to learn more about this read :
Introducing Alternate Inbox Names
If you still have any questions about this service visit their
FAQ page
to learn more .
That's it about :
Advice for teachers using web2.0 tools in their classrooms
Do you like this post ? have you read my other posts covering the effective use of web2.0 tools in education ? If you think my posts are worth your time then join my facebook fan page ( look at the righ sidebar to join ) or subscribe to my newsletter to get my posts right into your inbox and at the instant I publish them.
You might also like :